Expressing gratitude is often associated with our 1:1 relationships or only in our personal lives. However, incorporating gratitude into the workplace not only benefits the employees but also has a direct impact on the organization's overall success. To get a pulse on what your population is most grateful for right now, Wondr Health conducted a survey of our participants asking them the following question:
When you think about your career or organization, what are you most grateful for right now?
The results are in: Work-life balance tops the chart.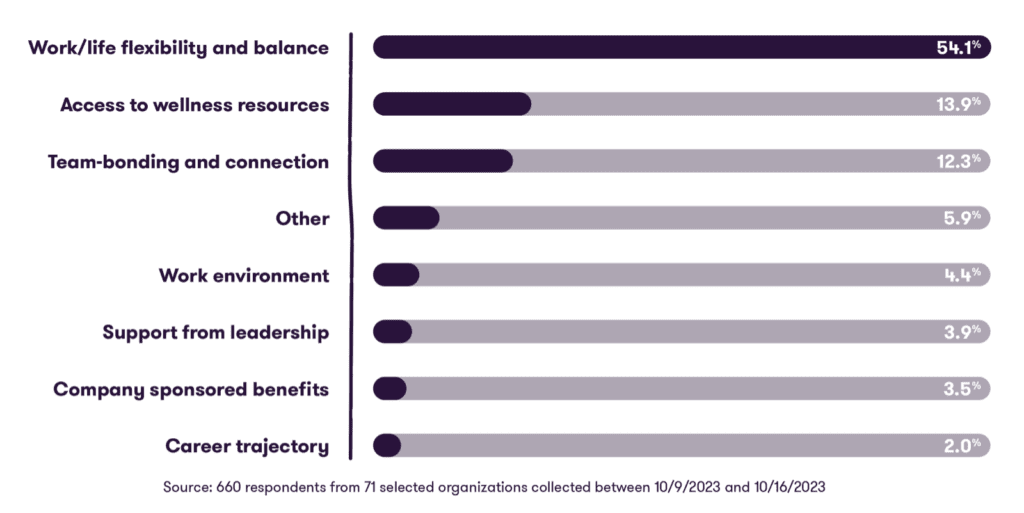 It's clear that employees expressed the most gratitude for support of work-life balance among other workplace benefits in our recent survey. In fact, a recent American Psychological Association survey found that 92% of workers said it is very (57%) or somewhat (35%) important to them to work for an organization that values their emotional and psychological well-being. Now more than ever, it is important for employers to encourage work-life balance that fosters both productivity and physical and emotional well-being. Yet a study conducted by Mental Health America found that over 75% of people are afraid of getting punished for taking a day off to attend to their mental health.
So how can we bridge the gap? Here are three key tips to keep in mind.
Talk the talk, and walk the walk
One-way employers can meet that need is to promote a culture of work-life balance, and often, employees will look to their leaders to see if they take time to be "human" too. Promoting a culture of work-life balance is an essential strategy for employers to address the ever-growing demand among their workforce. Encouraging employees to take time-off to time off to reconnect with their family, providing support tools to help employees prioritize their emotional well-being, or to contribute to others with volunteer work in their community are just a few ways you can lead by example.
Provide tools for overall wellness
The survey results not only emphasized the importance of work-life balance, but also highlighted the pressing need for resources aimed at enhancing the overall well-being of employees. Providing your population with strategies and programs that promote healthy habits like sleep and mindful movement, stress management, and resilience building is essential to creating a productive and engaged workforce.
Offer options to meet unique needs
Wellness means different things to different individuals at different times in their lives. Having a broad range of strategies that includes healthy eating, physical activity, sleep health, and stress management, empowers individuals to make personally relevant choices and build a toolbox of skills to foster long-term work-life balance.
Incorporating these elements into the workplace demonstrates a commitment to the health and happiness of employees and contributes significantly to the productivity and engagement of the workforce. When employees feel supported and are empowered with the means to lead healthier and more resilient lives, they are more likely to be motivated, efficient, and satisfied in their roles.
About Wondr Health
Wondr Health is the proven leader in metabolic, emotional, and physical health transformation.
About the author
Lisa Talamini, RDN, Wondr Health SVP of Clinical Solutions: As a leader with a passion for the art and science of lifestyle change, Lisa has spent her career translating the research around nutrition and health into innovative, yet practical solutions to empower individuals to realize their personal wellness goals. She whole-heartedly believes in the power of an integrative mind-body approach that addresses the whole person.